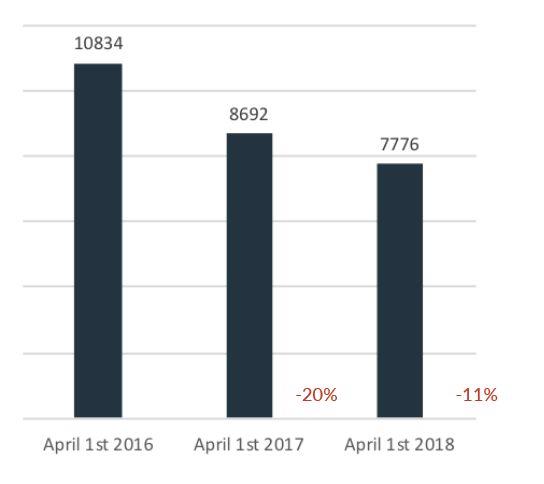 DEMAND & SUPPLY
1. Steady & Rising Demand
In addition to growing seasonal demand, a large number of new millennial buyers and last year's left-over buyers are competing for homes.
2. Declining Inventory
Listing levels have been shrinking for years. April 1st inventory was down 11% from last year and 28% lower than it was in 2016.
LOOKING AHEAD
1. Gearing Up
As fresh new inventory hits the market, buyers will vigorously compete for the best listings. Sales and price per square foot will rise sharply in the second quarter.
2. Falling Off
In the 3rd or 4th quarter, expect sales and average price per square foot to level and then decline. The drop won't be an indication of falling demand or values, but an indication that the late season available inventory contains fewer above average listings.

With continued insatiable buyer demand and an ongoing shortage of listings, inventory (quality and quantity) will continue to control both the price and the pace of sales.
SUMMARY
Compared to the prior month, inventory was up 7%. New pendings and closed sales were up big—60% and 35% compared to February. Activity will continue to pick up as the market progresses further into spring.
Compared to last year, inventory and YTD closed sales were both down (-13% and -8%), but both average sale price and price per square foot were up—9% and 8%.
Inventory is generally tighter in the lower and middle price ranges. The lack of available properties has caused a 20% decline in sales priced under $200k.
The upper-end (over $800k) market had a great 1st quarter start. Despite a 5% drop in inventory, YTD closed sales were up 15% and average price per square foot was up 7%.