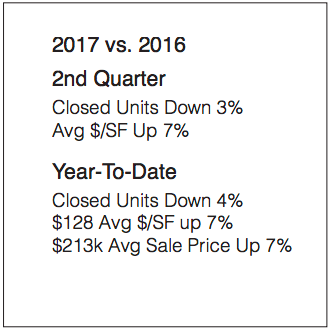 Through the first half of 2017, limited inventory levels have been the primary cause for a 3% decline in sales compared to last year at this time. That same shortage of homes has also contributed to increased buyer competition and with many multi-offer bids that have lifted prices an average of 7%.
Entry and mid-level homes continue to sell faster than higher priced homes. While there is less than 2 months supply of homes priced under $400k, supply levels jump to 4 months for homes priced between $400k and $800k and leap to over 12 months for homes priced over $800k. For a successful sale, high-end homes need to be tightly packaged: well maintained and detailed to shine, while priced to compete. Values have been rising since February, but the rate of rise will taper off over the next couple of months–like it did the prior two years.



Watch pendings and months-of-supply. The 5,941 number of June new pending sales fell off 2% from May, but was still higher than the number of June closed sales. Generally the market is on an upswing so long as the number of new pending sales exceeds the number of closed sales for a given month.
Inventory levels typically peak a few months later than closed sales. Growing inventory combined with declining new pending sales shows up as increasing months-of-supply levels. This happens at different areas and price ranges.

The shifting of months-of-supply in a given area and price range is a good barometer for predicting when those specific markets and price ranges are heating up or cooling off.