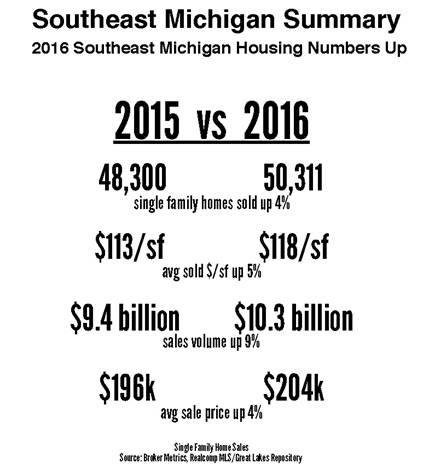 2016 was a great year for single family home sales in Southeast Michigan. Many factors including location, price range and condition affect the value of individual properties, but in general the number of homes sold in 2016 was up by four percent and the average sales price was up by five percent compared to 2015.

With over 17 thousand single family homes sold at an average price of $275k, Oakland County led with $4.8 billion in 2016 sales volume as reported through local multi list systems. While more homes were sold in Wayne County, its dollar volume tallied $2.6 billion. Macomb County came in third with $2.1 billion in sales.

While some would like to see values rise a little faster, the more conservative growth we have seen over the past several years provides market stability.

In the Tri-County (Oakland, Wayne and Macomb) areas, appreciation rates have generally been flat for the luxury home markets compared to middle and lower price segments.

Below you will find infographics forecasting the upcoming 2017 Real Estate market. For a full, downloadable Dropbox version of this report, click here.