Demand for quality homes remains strong, and the February average sale price was 8% above that of a year ago. Closed sales, however, have dropped in 5 out of the last 6 months—in part due to seasonality, and because of depleted inventory levels. Initial March inventory levels in the 5 counties that make up the Southeast Region were down 6% from the previous month and 13% compared to a year ago.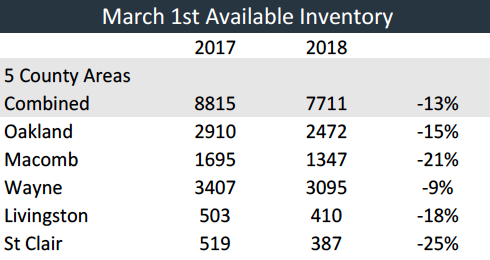 While February inventory, closed sales and new pendings were down, average sale price and price per square foot were up 8% and 9% respectively. Buyers, many who didn't find what they were looking for last year, want to buy, but a shortage of available properties is restricting sales. Low inventory levels are common throughout the country.
It is remarkable, and proof of healthy demand, that sales have been as strong as they have been despite inventory shortages that have been going on for years. The March 1st inventory is 39% lower than it was two years ago, yet closed units are just down slightly.
The current combination of rising prices and rising interest rates are providing a one-two punch to affordability. Since most buyers qualify based on the monthly payment they can afford, rising interest rates have a negative effect in that as interest rates rise, the extra interest paid leaves less for principal and lowers the amount the buyer can borrow. Higher interest rates also lessen selling prices for sellers and hit many of them twice because most sellers also become buyers when they obtain their replacement homes.
Both buyers and sellers who plan to be involved in the 2018 real estate market should do what they can to get an early start. Engaging early will help buyers get through the "learning curve" of securing financing and becoming familiar with the inventory in time to grab one of the early prime-catch listings before buyer competition heats up. Early buyers will also be able to afford more home by beating both price increases and rising interest rates
Sellers who engage early this year will maximize their opportunity to expose their homes to the greatest mass of buyers and will have a chance to sell before rising interest rates take a bite out of their equity/profits. Those (most) sellers who will also be buying a replacement home will gain the early buyer advantages on that buy side of their transaction.
Over time, rising interest rates and depleted inventories may cool down what is expected to be a strong 2018 market. Both buyers and sellers who get an early start this year will come out ahead.